LD Lines with anyferries.co.uk
Welcome to anyferries.co.uk. Any Ferries allows you to book any ferry online simply and securely.
Book LD Lines online with Any Ferries.co.uk. LD Lines run a ferry service between the English port of Portsmouth and the ferry port of Le Havre in France. LD Lines have also introduced a new summer only ferry service between Newhaven (England) and Le Havre (France). The new LD Lines ferry service will have daily departures between May-September; departing from the port of Newhaven at 12:30 and returning from Le Havre at 20:00. Book LD Lines between Portsmouth and Le Havre or Newhaven and Le Havre online and in real time with Any Ferries.co.uk. For holidays in France please visit LD-Lines Holidays.

LD Lines have also been selected to run the existing Transmanche Ferries route between Newhaven in England and Dieppe in France, providing passengers with more choice, flexibility and value for money sailings across the Channel.

For further information on the port of Newhaven, please refer to the official Newhaven ferry port site.
About LD Lines
LD Lines opened the Portsmouth to Le Havre ferry route with the launch of Norman Spirit in October 2005. In December 2006 LD Lines was awarded the contract to operate the Newhaven-Dieppe ferry service and are also running a new service between Newhaven and Le Havre using an existing Transmanche ferry.

The Service

LD Lines Ferry service runs both a passenger and freight service between the ferry ports Portsmouth and Le Havre. LD Lines offers a simple pricing structure with value for money and will often be cheaper than its competitors.

Aboard the LD Lines ferry there is no need to book a cabin. Customers can choose between one of the many comfortable reclining seats on board or take a rest in the privacy of their own cabin.

LD Lines have now introduced the new economical sleeper seats where you can enjoy the comfort of a bed for the price of a seat!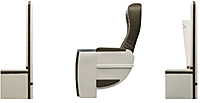 Simply a seat that turns into a bed... These high quality sleeper seats are set in a private lounge and recline to the full to turn into 2.10 meters' long horizontal beds. These twin seats are equipped with leg rests and partition so that you can enjoy the comfort and privacy of your own space in an environment combining innovation, well-being and aesthetics (as from December 2006).

Whilst on board customers may wish to make use of one of the restaurants or catch up on some work in the business lounge which is equipped with wireless internet facilities. Other facilities include: a bureau de change, a top quality shop,video games,slot machines and large flat TV screens. Thanks to the Oceancell technology, passengers can also use their mobile phones during the entire crossing. LD Lines also have the licence to carry pets under the Pet Travel Scheme.

Sailing Times Ferries

There is a daily departure from the ferry port of Portsmouth at 2300hrs* arriving in Le Havre at 0730hrs* the following morning and a daily return from Le Havre at 1700hrs arriving in Portsmouth at 2130hrs*. *local times.

Background to LD Lines

The Louis Dreyfus Group has been engaged in shipping activities for over 100 years and is today one of the world's 10 leaders in the bulk carrier industry. From the drawing board to the commercial management of vessels, whether under its own name or through its subsidiaries. The Group has merchandised and traded bulk agricultural commodities in international markets since 1851

Louis Dreyfus Lines S.A.S. is a subsidiary of Louis Dreyfus Armateurs SAS. It is a Short-Sea Ro-Ro operator with head office based in Paris. LD Lines establishes competitive, quality, reliable and frequent liner services combining build-up cars with unaccompanied trailers, therefore providing its customers with sea-transport alternative to the "road only" logistics schemes.